Logan Lerman (Percy Jackson), Thor Freudenthal (director), and Alexandra Daddario (Annabeth) answered fans' Twitter questions on the official Percy Jackson movie Twitter.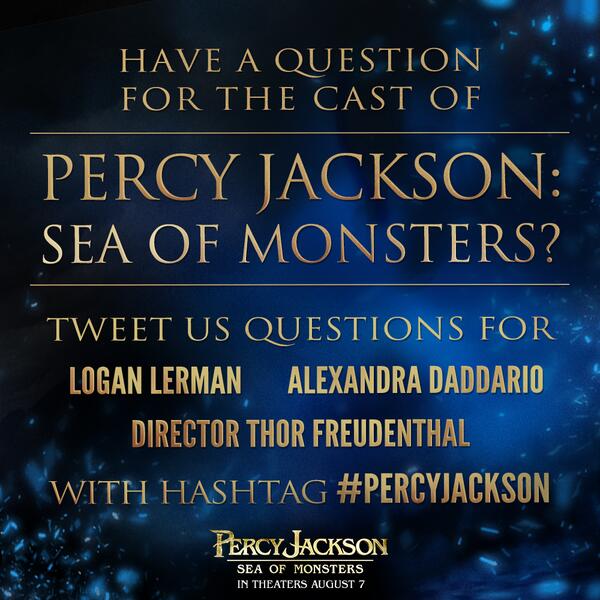 Question (@Dunic777): Who is your favorite Greek God? Why? #PercyJackson

LL: Posiedon, because I'm a little biased!

Question (@Gomezcirlce): What do you like about your character?

LL: Whats not to like! Percy is a lot of fun.

Question (@AlexLermanBR): To Logan: have you ever considered playing a villain?

LL: Of course I have… who says I haven't!

Question (@MrHalonoob123): Logan how much has Percy changed in this movie with the addition of Tyson into the picture.

LL: He's changed a lot. He found out he's got a half-brother, and his whole world is flipped upside down.

Question (@st0rybrooke): To Logan: What was the last movie you watched that made you see the world through different eyes?

LL: It's been awhile, but the last movie I watched that did that was A Place Beyond the Pines.

Question (@LoveMaeDarcy7): What is one of the funniest things that happened on set/at camp?

LL: Filming in Charybdis on a boat w/ zombies. We're shooting our way out, I was going crazy, thinking "this is hilarious"

Question (@ThomasDylanC): @ThorFreudenthal What steps did you take to become a director?

TF: I moved from doing artwork to commercials to short films to a studio film. I was always making stuff. That's the most important thing

Question (@Hi_Reanna): What's your favorite mythological creature?

TF: I find Kronos and his incredible evil endlessly fascinating! He ate his own offspring and stopped at nothing to get his way!

Question (@Eminunal7): Which god would you want as your parent? Not asking your existing ones. And Thor, this question is for you, too.

TF: I would probably want Zeus as my godly parent because I imagine it would make a lot of things easier to attain!

Question (@WeLoveHPJV): Has anyone gotten hurt on set?

TF: No! But during one night, there were a lot of mosquito bites which was traumatic enough!

Question (@noel1122): If you could have lunch with any god or goddess, who would it be

TF: Hermes! He's a one man entertainment center!

Question (@SaraWu04): What is a scene you are excited for fans to see?

TF: I'm excited for fans to see Thalia's sacrifice and what Thalia becomes! Very exciting, very emotional.

Question (@Percasm): favorite moment/scene?

AD: My favorite scene from the movie is when we meet Tyson for the first time! I love Tyson's character!

Question (@pennsaballa2): I wanna ask @AADaddario if she liked being blonde better than brunette?

AD: I loved being blonde for the movie. I've always wanted to be blonde but being brunette is easier, less work!

Question (@TjernagelBreck): What was it like to work with Nathan Fillion?

AD: It was wonderful! He's so funny and such a joy to be around! He's REALLY great in the movie

Question (@mrsdaddario): to Alex: what aspect of Annabeth does she identify with the most?

AD: She is a combination of strength and weakness, I share that. I can be vulnerable but also have my moments of bravery.

Question (@percabethness): to @AADaddario : If she enjoys the filming and who's her favorite character on Percy Jackson, out of Annabeth.

AD: I love Clarisse. It's really cool to see another strong female character. I think she's really badass in the movie

Question (@WeLoveHPJV): Funniest blooper on set?

AD: We had a scene running on a dock, I slipped and fell right on my butt. It was really embarrassing but funny at the same time
Follow Logan Lerman, Alexandra Daddario, and Thor Freudenthal on Twitter!